Break Free From 
Content Overload &
Decision Paralysis Once and For All
It's your turn to build a brand that gets noticed and expands your reach.
You've BEEN ready.
Ready to share your expertise. Ready to expand your reach. Ready to make more money.
"Today is the day!" you tell yourself.
So you head to Google and within 0.61 seconds you get about 462 million results telling you how to start your online business.
"Let's do this!" you think, convinced you'll find the answer you're looking for.
But now you're 3 pages of "Ultimate Guides" deep and you're 10x more confused and overwhelmed than when you first started.
You're so eager to get started that those sales pages for the guides, blueprints, and courses with promises to give you the answers sound so good that you click Buy Now faster than you can even say "Heck Yes!" 
But all those purchases have grown into a collection pdfs and Teachable logins that have been collecting dust on your virtual bookshelf.
Who even has time to sort through all that?!
Meanwhile, so-and-so just hit 3K followers on Twitter
and got a viral pin on Pinterest.



That was supposed to be you.
You were supposed to be the one to reach more people, make a difference with your message, and have a deep connection with your audience.
Your dreams of building a profitable curriculum-based online business have never felt more faraway.
But, what if you had an easy to implement system that kicked information overload and decision paralysis to the curb?
________________
What if you could get started implementing TODAY?
Introducing…

An exclusive membership that gives you access to ready-to-implement guides, checklists, templates, and processes so you can create quickly, publish more, and connect further.
It's time to for YOU to get noticed. It's time for YOU to expand your reach.
"I was so easily distracted by all the tasks and ideas that popped into my head when creating content. Content Prep Academy laid out a clear process to help me focus.  I no longer have to write and rewrite checklists into a notebook every time I come up with an idea. It's already done for me so I can save time and implement faster."
Lindsay Weldon, Public Speaking Coach
No more piecing your business together with random 
tips and tricks your read on the internet.
What you need is ONE cohesive system with proven strategies you can implement TODAY.
Content Prep Academy isn't one of those memberships that throws more information at you or just gives you access to a resource library you have to rummage through to find what you need. Nope.
Content Prep Academy is about taking action.
With your membership you'll get access to easy-to-use templates, outlines and checklists for every component of content system in your business.
This ready-to-implement strategy is easy to use. Just answer the questions, fill in what you want to say, and you'll be ready to click publish and get to work connecting with your audience and expanding your reach. We'll even show you EXACTLY how to set up the behind-the-scenes of your business so you have a strong foundation and a streamlined system in place.
"I was so overwhelmed with all of the ideas in my head. I knew I needed some guidance to get organized and the tools templates were perfect! I loved how they were in Google Drive so I could save and update my ideas easily."
Tiffany Southerland, FourCornersCoach.com
Take the guesswork out of content creation
.
Content Prep Academy tells you where, when and how to start. So you can focus on publishing content on repeat knowing that this ready-to-implement strategy will get you noticed.
Create Quality Content. Publish Quickly. Connect Deeply.
It's time for you to use your voice, package your message, and deliver it to your audience.
"I love how the strategy is already laid out in a template. All I had to do was think about what I wanted to say and then fill it out!"
Germeen Greene, YourLifeAndFinance.com
How It Works
Content Prep Academy's purpose is to help you establish your business and expand your reach  by giving you all the tools you need to take concrete action TODAY. That's why it's is strategically organized with different components to provide a wide range of support as you reach your online business goals.
Here's what's included with your membership:
Exclusive Member Resource Bundles
Modules-based system filled with resource bundles that include worksheets, templates, video tutorials and masterclasses to help you set up every content system in your business
Easy-to-use Checklists
The step-by-step processes ensure that all your bases are covered. Video recorded, graphics created, social media scheduled. Never miss a step!
Fillable Content Templates
These simple plug-and-play templates help you create in less time. Fill in the blank and you're one step closer to getting your content published.
Step-by-step Training Videos
Eliminate the headache of trying to figure out tech and set-up on your own. Want to create a landing page, or set up a webinar? There's a training video for that.
Complete & Targeted Trainings:

An overview of some of the topics we cover inside of Content Prep Academy memebership:
Webinar Presentation Creation
Community & Support:

Having a supportive community is crucial to your success online.
That's why we've made it such an integral part of your memebership:
Virtual Co-working Space
Our members-only slack channel will give you access to like-minded people willing to offer feedback, give you advice, share their strategies, and be your supporter.
Group Strategy Sessions
The quarterly sessions with Maya will be like progress check-ins. You'll be able to pick Maya's brain and troubleshoot your strategy. You'll walk away with more clarity.
Monthly Expert Q&A Chats
To complement content creation efforts you'll get access to monthly Q&A chats with top experts in the online business industry for additional & targeted expert help.
Bonus Masterclasses
You'll also get access to my Master Your Market masterclasses (valued at $797!) where you'll get expert advice about how to build and run a successful online business. You'll get access to:
How To Build A Thriving
Online Community
with Kayla Hollatz
How To Build A Six-Figure
Coaching Business
with Fabiola Giordani
How To Create + Promote
Physical Products
with Alisha Nicole
The Secret Behind Making
Sales As An Introvert
with Kelly James
How To Double Your
Online Audince
with Melyssa Griffin
How To Host A Popular
Twitter Chat
with Melissa Kimble
HowThe Proccess To Creating An Impactful Podcast
with Jen Carrington
How To Use Webinars To Increase Conversion Rates
with Mariah Coz
How To Build A Thriving Online Community
with Kayla Hollatz
Get the support and community your need to grow your business
.
Get access to top content creators who are actually making an impact online!
"Maya's step-by-step processes are worth way more than what she charges for.  Her templates made it so easy to plug and play, and I never had to over think about what to do next. These tools made it easier for me to create and publish quality content."
Eboni Morris, EboniMorris.com
I'm tired of business ideas remaining on the sidelines and powerful voices going unheard.
That's why I've priced Content Prep Academy at a no-brainer investment.
Monthly Membership
Member Learning Portal

Access to Plug & Play Templates Video Tutorials & Targeted Trainings

Members-Only Virtual Co-working Space

Quarterly Group Strategy Sessions + Q&A with Maya

Monthly Expert Q&A Chats

9 Bonus Expert Masterclasses
Get Access Now!
Annual Membership
Member Learning Portal

Access to Plug & Play Templates Video Tutorials & Targeted Trainings

Members-Only Virtual Co-working Space

Quarterly Group Strategy Sessions + Q&A with Maya

Monthly Expert Q&A Chats

9 Bonus Expert Masterclasses
Get Access Now!
So you get all this…But here's what you REALLY get:
The system I use to escape decision paralysis
The stress free way to create your blog in just 3 days
A 6-figure boss system for staying organized
A no-burnout method for planning 90 days worth of content in one sitting
The exact welcome email sequence I use to establish a connection with my audience
The no-brainer strategy & template to create high-converting webinar content
The easy way to create course content without wanting to pull your hair out
The plug-and-play formula I use for consistently communicating with my audience
A supportive community ready to lift you up and cheer you on
Answers for every question you have on your journey to expanding your reach with your online brand
No more excuses
. It's time to implement.
Snap out of decision paralysis, and get back to making an impact.
Imagine the impact you could make if you were FREE from the hamster wheel of content creation.
It's Risk-Free
I'm certain that Content Prep Academy will simplify your content creation life as much as it's simplified mine and other top performing content creators. That's why I'm giving you a 7-day money-back guarantee.  If you check it out and don't think the Content Prep Academy framework will work for you, just email us and we'll refund you, no questions asked.
Is Content Prep Academy right for you?
This is for you if you:
Want to get noticed for your knowledge, expertise, or profession.
Understand that content will make a big shift for your brand.
Are burnt out and tired of riding the content creation hamster wheel.
Want a way to publish quality content more quickly.
Don't have time to consume more information about HOW to do things
Want a ready-to-implement strategy to focus on connecting with your audience
Want a ready-to-implement strategy to focus on connecting with your audience
This is NOT for you if you:
Don't want to run an information or curriculum-based online business.
Aren't ready to take action.
Don't want to make an impact.
Enjoy wasting time starting your content from scratch every single time.
Don't want a way to publish quality content more quickly.
Enjoy consuming content without implementing.
Don't want a ready-to-implement strategy to focus on reaching and connecting with your audience.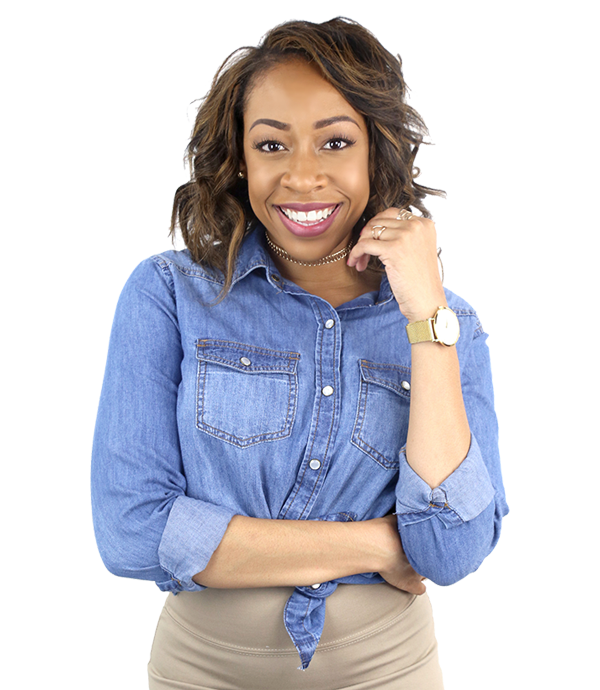 Meet Your Coach, Maya Elious
Hey, there! I'm Maya Elious, a personal branding strategist that teaches experts how to create curriculum-based content to grow & monetize their online brand.
I've helped hundreds of students and clients launch digital content platforms like blogs, challenges, masterclasses, webinars, and courses so they could establish and monetize their expertise in the online world.
For the past 9 years, I've built my brand around encouraging brilliant women to use their voice and share their message in the form of online content so they could maximize their reach.
What I generally charge my one-on-one clients thousands of dollars for, I packaged up into Content Prep Academy to make it accessible to people with a big voice and smaller budget. Let's get you to the next level.
Frequently Asked Questions:
How Does It Work?
After signing up, you will get an email with your portal log-in credentials. From there you can access all the resources, trainings, and instructions on how to join our private community! It's as simple as that. As long as you're a member, you have access to all of the resources and perks that come with Content Prep Academy!
How Will I Access The Material?
You will access your material from a private membership portal where all of your checklists, guides, templates, videos, and resources will be available to you. You're free to save all of your resources to your own personalized folders so you can access it when you don't have access to internet connection.
Why Not A Monthly Membership?
Per the request of hundreds of our members, we switched from monthly dripped content to ALL ACCESS content. Quarterly made the most sense to give you access to thousands of dollars worth of value for a small upfont investment of $77 for 3 months.
Can I pay in advance?
Yes! You save more than 10% by enrolling in the annual membership. You can sign up for it here.
Will I get access to you?
Yes and no. While I'm not available through private messages, I'm extrmely active inside of our members-only community.
Keep your audience engaged in your message.
Get a ready-to-implement strategy that takes the guesswork out of content creation.
No more excuses. It's time to finally implement.